xa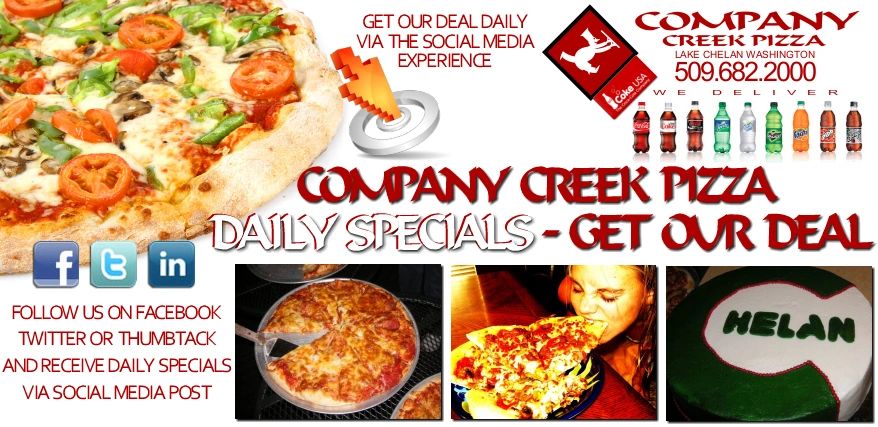 Although pizzas are the most famous food produced by us, you can also order burgers, fries, salads, pasta, specially made deli sandwiches (for lunch) and a collection of unique desserts.
Company Creek has fun for families and individuals alike, with video games and a juke box to please as you enjoy your food. If you have a party or a large group coming in, you are welcome to call ahead for a reservation, allowing a large group to be able to sit together without trouble. When you and your family finish eating we are within walking distance of great recreational activities such as the city park, with the lake, mini golf, volleyball, basketball and playground.
If you don't want to travel to us, you are welcome to call for a delivery within the local area. Of course you can always come in and take your favorite food to go. Check out our revised menu and ask about our expanded delivery area plus our specials. Company Creek has been a traditional stopping place for tourists and locals alike for over 30 years, creating classic pizzas using a traditional brick oven to cook pizza to perfection. Everyday, fresh dough is made from scratch using our own special recipe and topped with our own carefully prepared sauce to provide the best texture and taste.
Deli Style Breakfast | Made to Order | Fresh Ingridients
2 items for $4.95 | 3 for $6.95
7 Days a Week only at Company Creek Pizza

We are serving breakfast from 8 to 11 daily. Bacon, sausage, eggs, biscuits and gravy, french toast and hash browns.
You pick 2 and pay $4.95 or pick 3 and pay $6.95, this includes coffee.